All children's classes/programmes are run by our lovely tutor Rebecca.
We offer:
Drawing and painting classes (5 or 10 weeks sessions)
Half term art workshop
Summer school
Arty birthday parties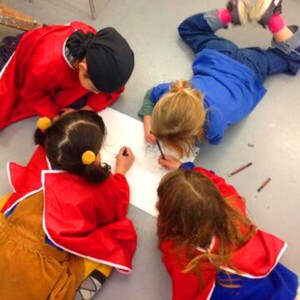 Drawing and painting classes
Our classes are for children (7-17) to have fun and learn together.
All levels and abilities welcome, and all materials will be provided.
Classes can be booked as block of 5 or block of 10.
All classes will be taught by our tutor Rebecca Fisher.
Our school year consists of 3 terms.
Each Term = 10 weeks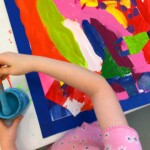 We will:
Experiment with a variety of media, such as acrylics, watercolour, ink, charcoal, and graphite pencils, pastels, and recycled materials
Explore a wide range of techniques – in drawing, painting, collage, print-making, sculpture and mixed-media
Be inspired by other artists and each other
At each class there will be different activities, so that all are engaged and challenged according to their age and ability. Older children, if they want, can work separately on independent projects such as portfolio building.
Whatever the age, great emphasis is placed on the importance of experimentation, creativity and individual expression.
At the end of every term we hold an exhibition – open to the public – featuring the best of the kids' work!
Timetable:
Monday – 16.00 – 17.30
Tuesday – 16.30 – 18.00
Friday – 16.00 – 17.30
Sunday – 11.00 – 12.30
Sunday – 14.00 – 16.00
Please note:
• All classes are aligned with school's half term times.
• The safety and security of your kids is our utmost priority.
• Maximum 7 students per art class to ensure social distancing
• Our tutor, Rebecca, is CRB checked. She has extensive experience in using varied techniques and highly developed interpersonal skills to support people in realising their learning goals and projects.
Arty birthday party
Sunday 4pm – 6pm
All materials included.
Please contact kids tutor Rebecca for more info:
kidsartclasslondon@gmail.com
£25 / per person
Private lessons
We offer private lessons for children
£30/hour, minimum booking 2 hours
Please contact kids tutor Rebecca for more info
kidsartclasslondon@gmail.com
All materials included
Half term Art Workshop
Half term: Monday 14 February – Friday 18 February 2022
Half term: Monday 30 May – Friday 3 June 2022
Time:
11.00 – 13.00
14.00 – 16.00
Fee: £250
Summer School
Coming 2022
More info coming soon