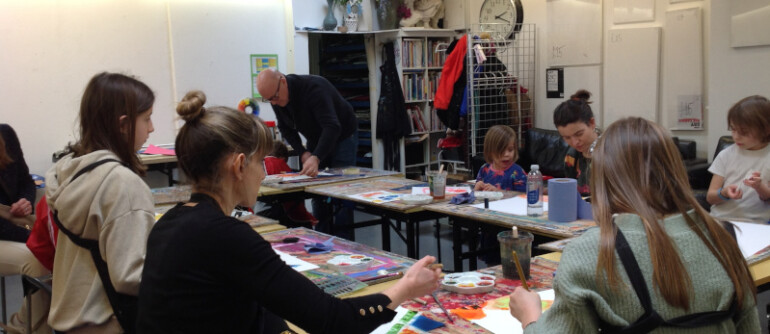 Child + parent/guardian art classes
This class offers an opportunity for children and their parent, grandparent, adult friend or caregiver to experiment creatively together, using the wide range of tools and materials. Guided by Rebecca Fisher, the children's art tutor at artCLASSLondon, everyone will have fun with drawing, painting, printmaking,collage and sculpture. See here for examples of the art produced in the kids' art classes.
All materials and equipment will be provided. Aprons are available but we also recommend wearing old clothes – here you can make a mess!
Tutor:
Rebecca
Time
14.00 – 15.00
Days of Week
Sundays only
This is a drop-in class, or you can book a block of 5 or 10 classes.
Open to children aged 3+.
Costs
One child/one adult: £25 per session, £125 for five sessions or £250 for ten sessions
Two children/one adult: £40 per session £200 for five sessions or £400 for ten sessions
If coming as a drop in please bring cash with you on the day.
This is what Harriet says about these classes: "I've been taking my 6 year old son to parent and child art classes on a Sunday afternoon on Hornsey Road for a while now and he absolutely loves it. He gets a lot out of it and it seems to help him de-stress. I'm sure it's partly the art but I do think it's also partly Rebecca Fisher, the teacher, who has a lovely calm energy. She is super gentle and patient and really good at explaining and demonstrating techniques."
One child, one adult – 5 sessions  £125
One child, one adult – 10 sessions  £250
Two children, one adult – 5 sessions  £200
Two children, one adult – 10 sessions  £400