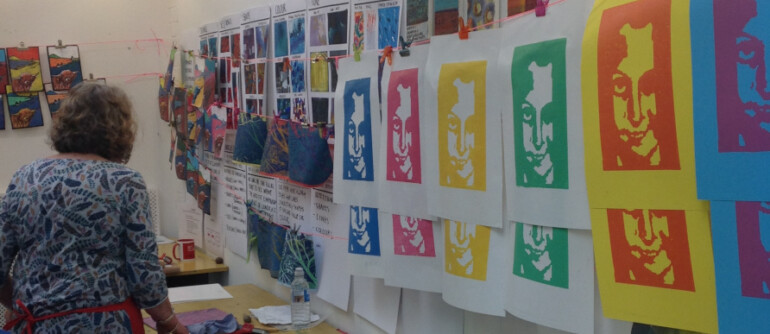 Printing Lab – Workshop 2
Advanced Printing
develop your printing skills further
One session  £40
Block of 4 sessions £160
Time
14.00 – 17.00
Days of Week
Saturdays
Autumn Term dates 2023
16 and 23 Oct
4 and 11 Nov
Spring term dates
3 ,10,  24 Feb 2024
2 March 2024
Summer term dates
18 and 25 May 2024
8 and 15 June 2024
Tutor:
TBC
Course Description
Take personal projects further and develop your printmaking skills simultaneously. This popular course is ideal for repeat attendees and anyone who did WORKSHOP 1 and who wish to expand their chosen method of printing. You will have the choice in developing your printing skills further in all printing techniques introduced in Workshop 1.
This is your opportunity to spend more time on developing any of the methods you choose or to combine a different method of printing as well as experiment with collage.
Methods:
Monoprint – one of the most accessible methods of printmaking but also one of the most creative. Combine with stencils and collage this will be an exciting and enjoyable way to develop and inform your current art practice.
Gelli plate printing – Full of exciting outcomes, using stencil and trace,colour
Lino printing – reduction printing, working in layers
Screen printing – developing more complex design using layers of stencils
Guided by the tutor, students will expand their knowledge to realise a portfolio of prints.
Please bring some ideas, sketches or images as an initial starting point for your prints.
Teas, coffee and biscuits provided.
Prints can be taken away on the day or left to dry in the studio and collected during  Art Class London working hours.