CORPORATE TEAM BUILDING
Ideal for businesses and teams – our artist-led art sessions will leave a lasting impression.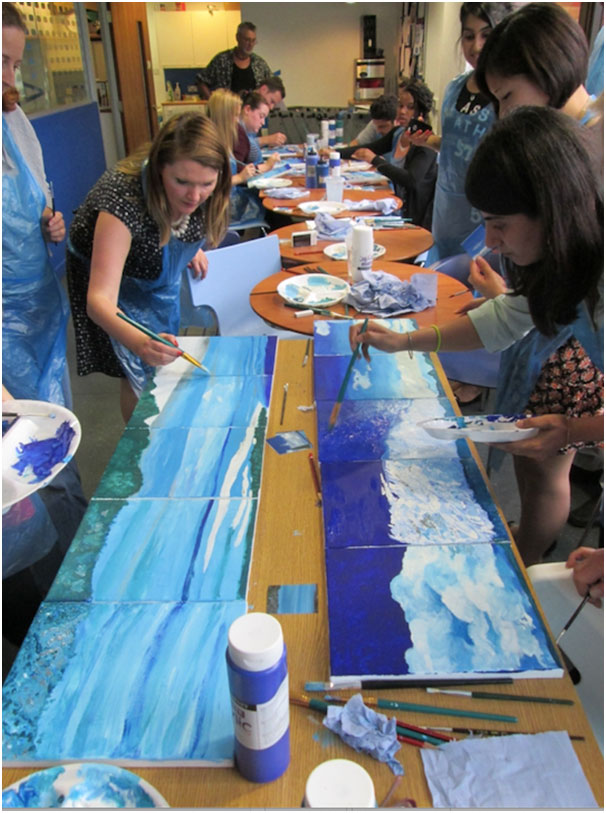 We have run team events with a wide range of clients. We believe creating art can have a positive social impact; art is a valuable tool for personal development, wellbeing and fulfilment, and allows people to gain new perspectives on business challenges – learning leadership skills, improving creative thinking and problem- solving skills and encouraging teamwork.
Our team members will:
– set clear objectives so that everyone understands the aims and structure of the day
– manage the group ensuring that everyone enjoys the session and feels involved and valued
– run feedback sessions highlighting issues raised during the activities, promoting constructive discussion, and looking at ways for the team to apply their learning in the workplace.
You can choose from our ready-made packages, including half-day and whole-day sessions.
Ready-made packages:
Collective Landscape
Cubist Portrait
Collective Abstract Colour Composition
Alternatively, we can work with you to create a bespoke session specific to your team and company goals – whether you're looking for a tailored away-day or an ongoing programme over an extended period.
Our popular team-building exercises are fantastic for developing or
reinforcing team cohesion and suitable for:
– Getting to know each other better.
– Having fun together as a team
– Working more cohesively and improve communication.
– Being creative together