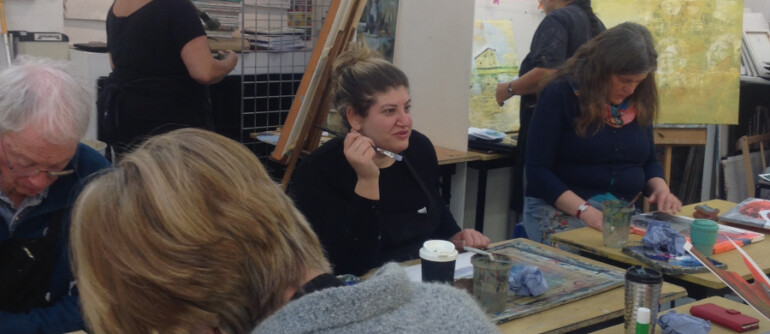 Drawing and painting 1 – beginners & intermediate
Studio classes.
Tutor : Maddie
For any information regarding programme, payments or how to join please contact her at:
email: adultartclasslondon@gmail.com
mobile: 07444431030
Choose your class:
10 x 2h session
Monday
10.00-12.00
10 x 2h session
Monday
19.00 – 21.00
10 x 2h session
Tuesday
19.00-21.00
10 x 2h session
Thursday
10.00-12.00
10 x 2h session
Thursday
19.00-21.00
Designed for beginners/intermediate.
One session of 2 hours per week.
10 weeks course.
You can choose your day.
Time
10.00 – 12.00
19.00 – 21.00
Days of Week
Monday, Tuesday, Thursday, Friday
Class Description
Explore traditional and less traditional methods of drawing simple objects. Using structured activities, we will introduce key concepts such as line, tone, composition and mark making. Ideal way to learn or re-learn -the basics or prepare for longer courses.
Experience the joy of painting. Through simple exercises you'll explore colour, painting techniques and the expressive qualities of painting. The perfect way to start painting. This course takes place in the classroom.
Formal visual elements are presented through a study of spatial relationship. Built around a series of related problems, each of which is designed to develop fluency in drawing, offer experience in handling media, foster self-confidence and promote an understanding of the visual elements and their role in the development of pictorial space.
Introduces: proportion and perspective through observation-baseddrawing, colour and descriptive mark making through observation-basedpainting;
Students are introduced to various drawing and painting materials and learn to translate what they see into drawing and painting media using still-life as the basic subject.