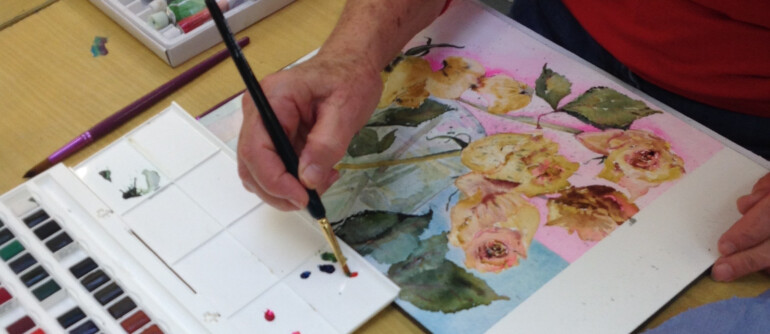 Time
14.00 – 17.00
Days of Week
Wednesdays
Course description
All levels.
Watercolour Group is an excellent choice for any independent water colourist, no matter what stage you are at.
This group meets once a week for a 3 hours session.
A session starts with a one hour of collective discussion about each artists work, led by the tutor.
After initial assessment of what went before, we establish a course of action for each water colourist on that day. Then one tries to accomplish that goal.
This is no pressure group; everyone works at their own pace.
All materials are provided: stretched watercolour paper, quality watercolour set, brushes, etc.
You are free to work on your ideas and images, however, there are various stimulating resources available in this fully equipped art studio.
You will be part of a small and friendly group of genuine watercolour lovers.
You will also be able to exhibit your work in our End
of Term Exhibition.