Drawing and Painting Classes
All classes will be taught by our tutor Rebecca Fisher.
We will:
Experiment with a variety of media, such as acrylics, watercolour, ink, charcoal, and graphite pencils, pastels, and recycled materials
Explore a wide range of techniques – in drawing, painting, collage, print-making, sculpture and mixed-media
Be inspired by other artists and each other
At each class there will be different activities, so that all are engaged and challenged according to their age and ability. Older children, if they want, can work separately on independent projects such as portfolio building.
Whatever the age, great emphasis is placed on the importance of experimentation, creativity and individual expression.
At the end of every term we hold an exhibition – open to the public – featuring the best of the kids' work! 🙂
Aprons will be provided but we would recommend that children wear old clothes as they will make a mess!
Please book as many sessions as you would like.
If you have booked onto a class that we are unable to run, and your child is unable to attend another session, we will refund you in full.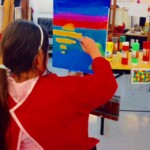 Each session lasts 1.5 hours.
Our classes are on Monday, Tuesday, Friday and Sunday.
You can book 5 sessions or 10 sessions on specific day of your choice.
10 x 1.5 hour classes
£199
Please choose your days and book
5 x 1.5 hour classes
£99.50
Please choose your days and book